PlastIC FREE – A PROMISE TO NATURE
At Tufte we work every day to find solutions to how we can make the best high quality products without the use of plastic. We have made a promise to ourselves and to nature to limit the use of plastic and plastic fibres in our clothing production. This includes to cut the use of regular polyester and to never produce a single polyester fleece.

ALLWAYS POSSIBLE TO GET BETTER
We are constantly searching for alternative and eco-friendly ways of creating products with the same qualities you get from polyester. After learning how the fleece is made of tiny micro plastic fibres that constantly fall off from wear, tear and wash, and pollute our water and our nature – this is not something we want to contribute to. Many are not aware of the fact that when wearing polyester you contribute to the constant inflow of micro plastic. Using polyester is very common because it is cheap and the material has good qualities.
For us at Tufte that is not enough.
In our search for a better alternative we have landed on recycled polyester for now. It1s a better alternative, as it causes less air-, water- and soil contamination compared to using non-recycled polyester – and it also keeps bottles and other plastic objects out of the landfill. It is not necessarily the best option in the long rund, but it is the best one right now.
We are continuously improving our products and our production so that our customers can wear high quality garments that feels nice.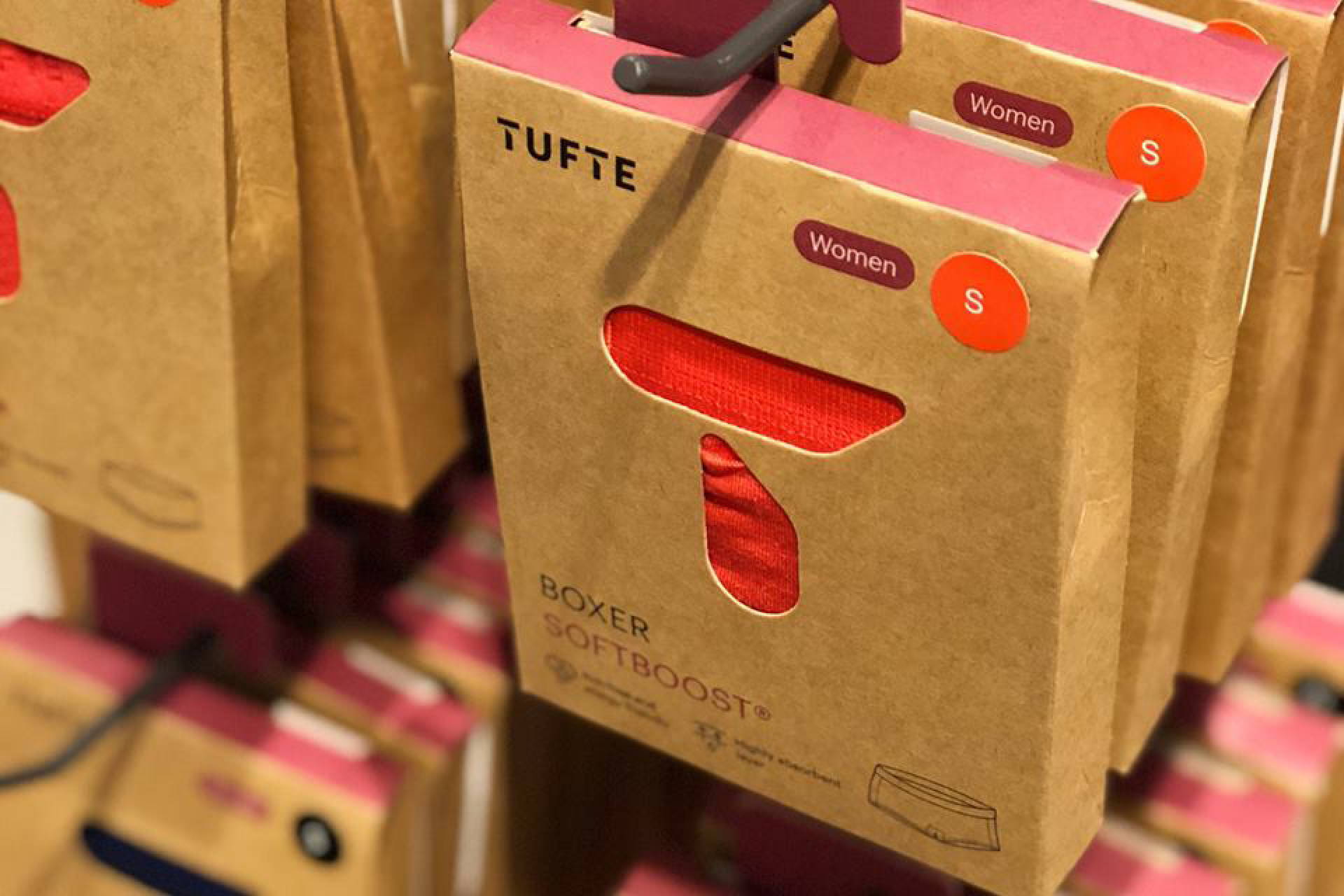 There are no figures on how much plastic is used for packaging in stores around the world. Today, plastics are unnecessarily often the choice of material for packaging goods to be shipped to the consumer, be it clothing, tools, toys or food. We wanted to change this, and in 2017 we replaced all the plastic with cardboard packaging. Meticulously folded and fully recyclable. For us this was a good and eco-friendly alternative as it contributes to a lower use of plastics and will lower the risk of plastic ending up in nature.
Every time we develop products it is important to us that the garments not only feel good to wear, but they should also be good for your body and for nature. When we design a piece of clothing such as a woolen sweater, we strive to make sure the zipper is the only item that contains plastic. The rest are natural and recycled materials.
When we launched our Active collection, we researched and tried to find the very best solutions and fabrics that are both gentle against the skin and our environment. All the garments in this collection are made of bluesign® certified recycled polyester and nylon, and are light, comfortable and soft. The materials breathe and transports moisture so that they don't feel clammy even after a hard work-out.
If we are to avoid the demand of plastic products and the inflow of plastic to nature, we must use natural materials, while ensuring the extended use and reuse of the products already made.
For that reason, we have made our Eco t-shirt – it is 100% biodegradable, made of 20% recycled cotton and 80% organic cotton. There are no added die-stuff or other harmfull chemicals like bleach. In addition we have sown the entire garment with Tencel thread instead of the more common polyester and nylon, and the label is made of organic cotton. The print is also water based and doesn't contain any harmfull chemicals. This means that our Eco t-shirts will become a natural part of the circulation, as all the materials are completely biodegradable! After a few months in the compost, the t-shirt will become soil and contribute to the growing of new life.
The picture shows the t-shirt after only two months in the compost.