PACKAGING WITH A PURPOSE!
At Tufte we love re-use! To give clothing and items added value so they can last longer is a concept we like, and we encourage others to embrace it too! Read more about how we incorporate re-use in our packaging.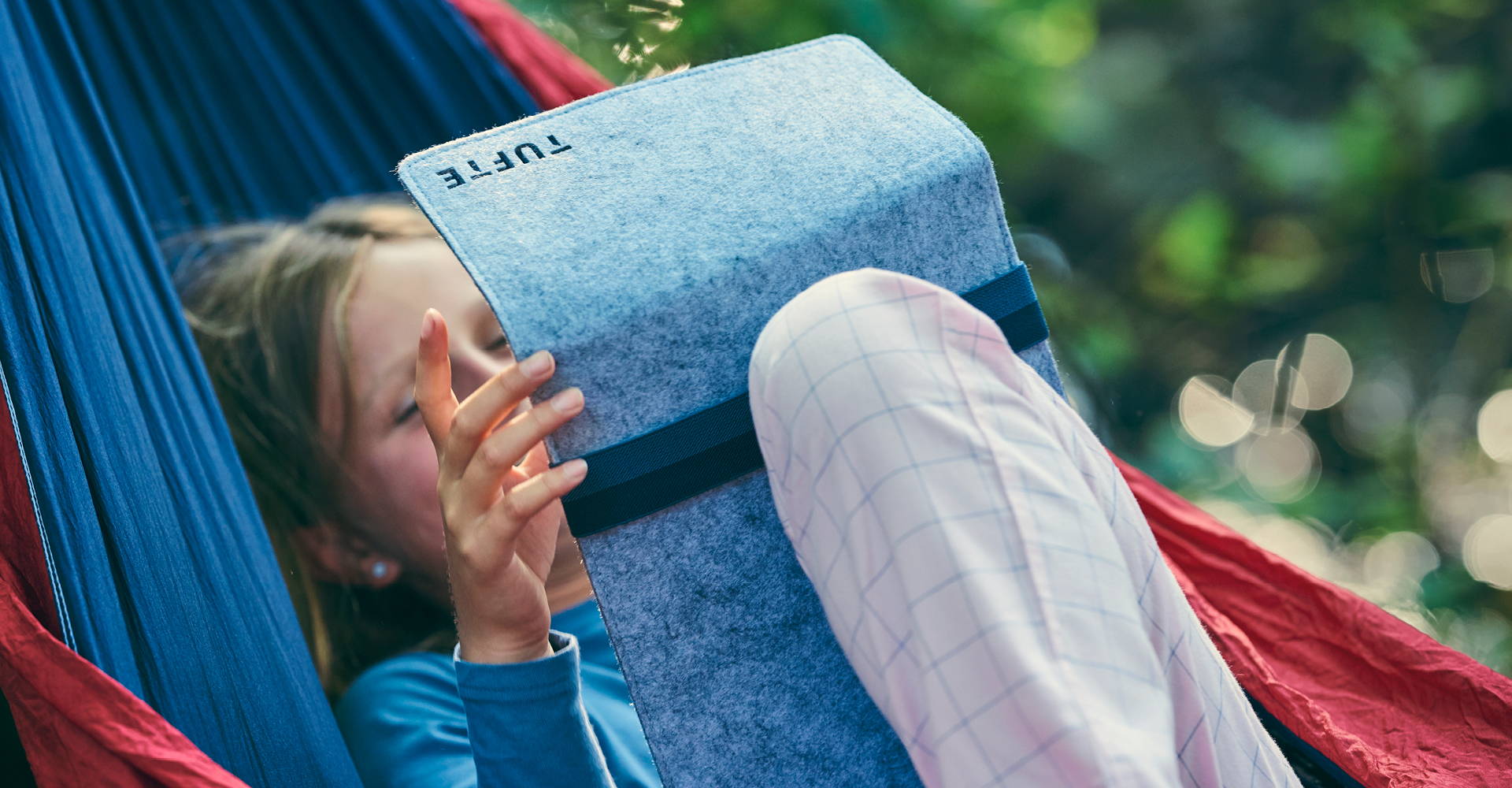 With re-use and added value in the back of our minds, we have made several packages that you don't need to throw away after removing the product inside. Our pyjamas packages are made of recycled polyester – more specifically of tiny pieces of fabric and cut-offs from production that is often thrown away at the factories. We have embraced these little pieces, and put them together to make packaging sleeves for our pyjamas'. The sleeves has multiple functions, and you can use them to store documents, pictures, magazines, newspapers, drawings, stickers or other treasures that need a place to live.
Coincidentally the large sleeves are a perfect fit for a laptop, and the smaller sleeve for the kids pyjamas will fit an iPad or tablet perfectly.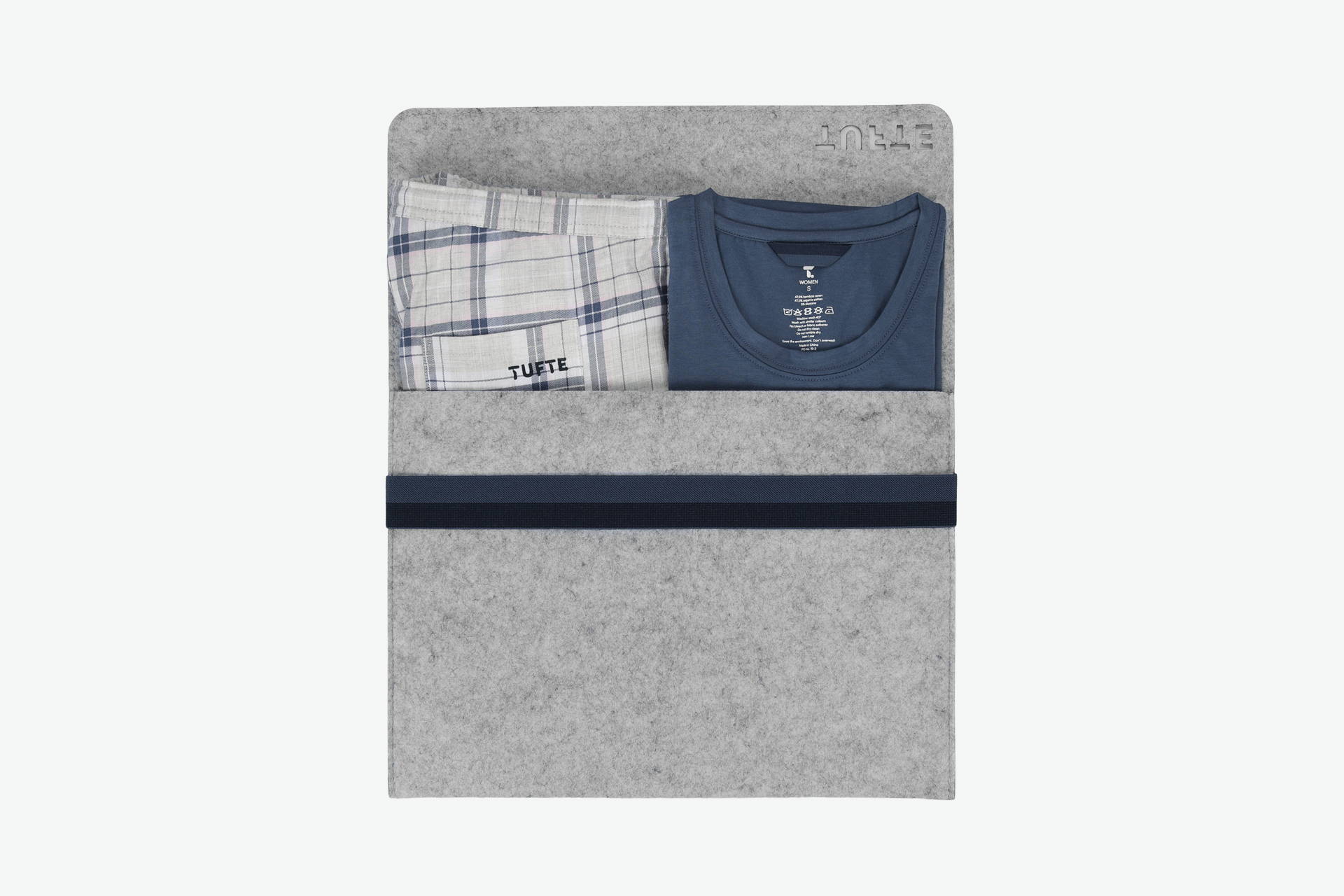 We've also designed a giftpack for kids; four pairs of socks packed together inside a pencil case of organic cotton – a super practical gift for school children! Keep the little feet comfy and the crayons and pencils in place. The pencil case is made in the same material as our Outdoor collection of jackets and pants, ensuring that we use the same fabric as well as surplus material from the production of these clothes.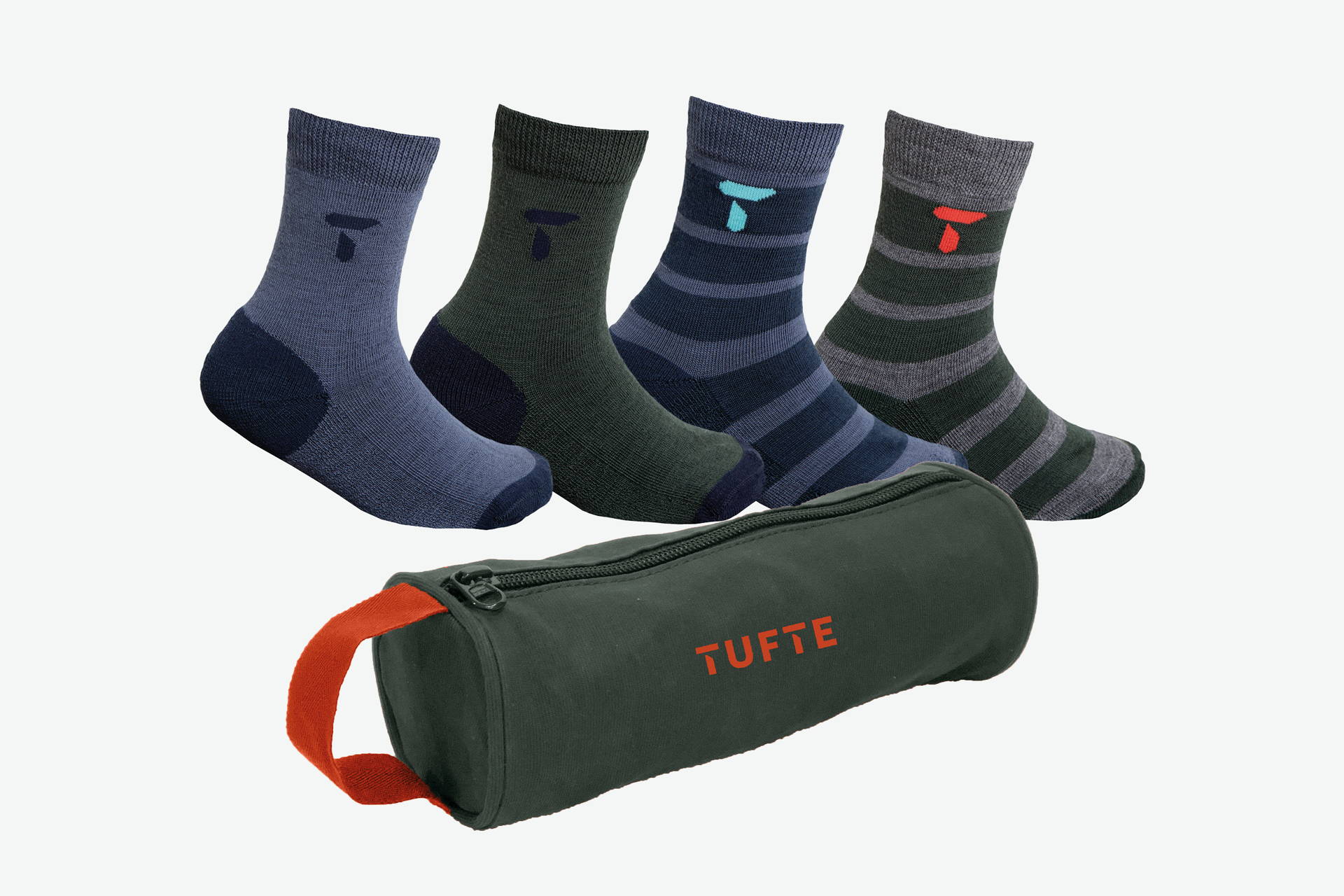 The rest of our giftboxes are smart cardboard boxes with lids – nice and robust, and great for storing this and that. The boxes can become a garage for toy cars, a container for crayons, a storage box for pictures or maybe it can be used to store nails and screws. There are a lot of ways to give these boxes new life. We've visited our factories in China ourselves and seen how the factory workers use our boxes to store needle, thread and other sowing equipment and small items. Very clever! This and other ways of re-use saves our planet a lot of unnecessary trash, and that makes us happy.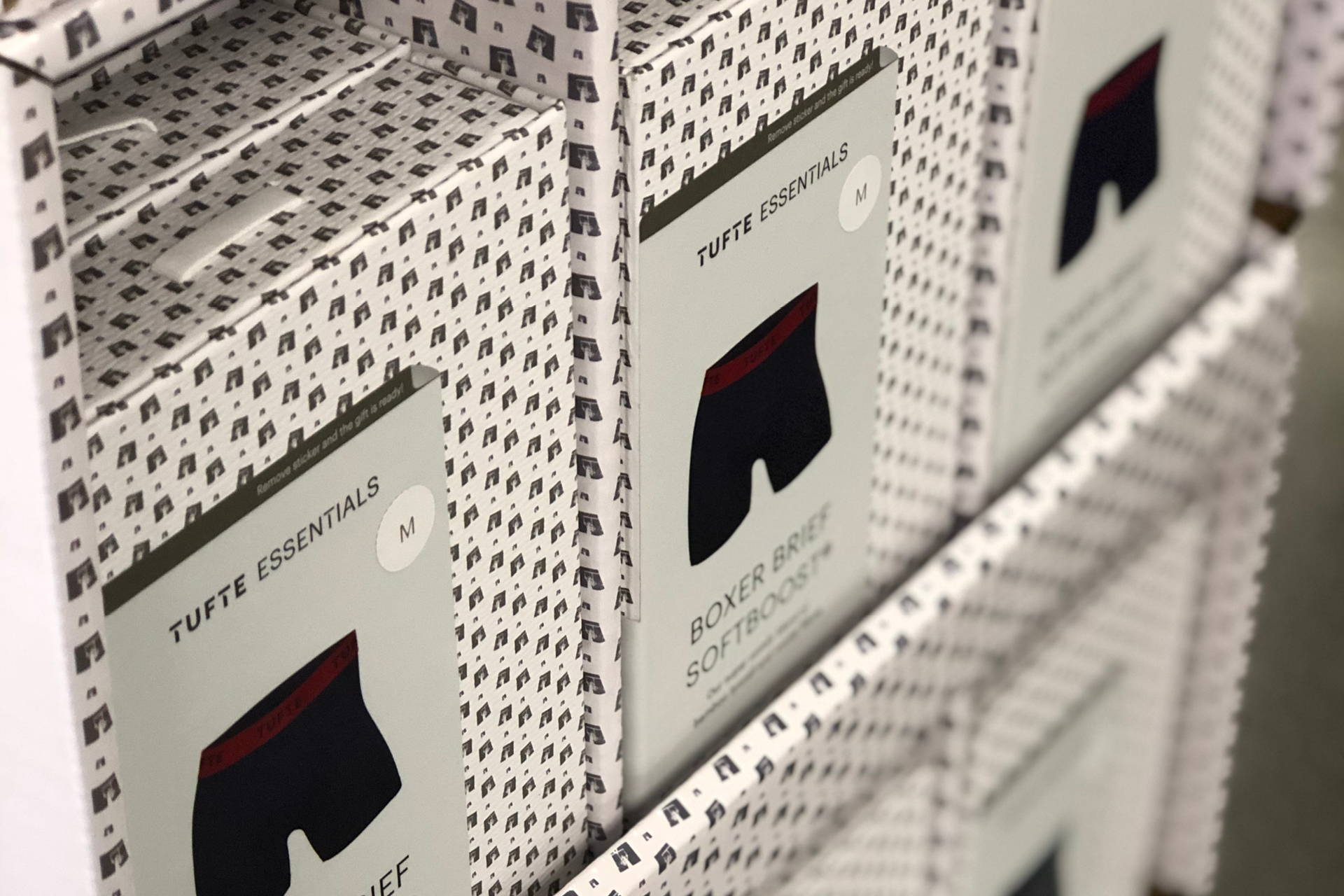 The rest of our packaging is made of 100% recyclable cardboard, without a single piece of plastic. The amount of glue is minimal, most of them are simply meticulously folded. In 2017 we made a permanent change from plastic packaging to cardboard, which contributes to lessen the production and use of plastic, and also minimizes the risk of plastic ending up in our oceans.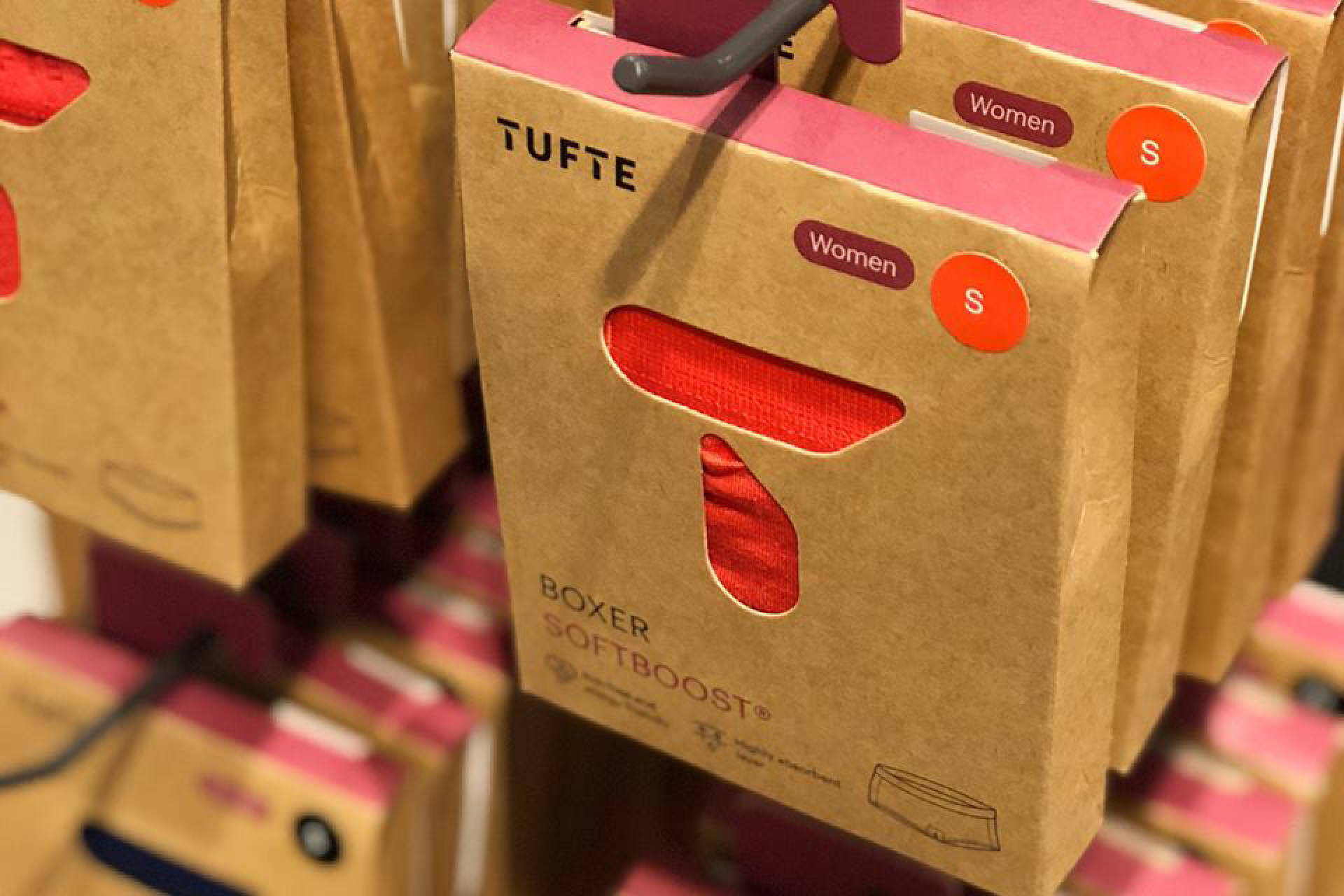 OUR RE-USABLE PACKAGING ♻︎